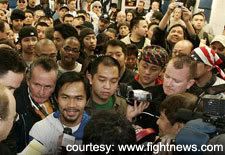 Bedlam broke out in San Francisco, California as Filipino icon

Manny Pacquiao

put on a show for his boxing fans Wednesday.
The

Filipino boxer

paid San Francisco a visit to train at the

Titanium Training Center

where adoring fans mobbed him.
Hundreds of "Pacmanians" showed up at the training center just to catch a glimpse of their hero.
Manny Pacquiao did a 20-minute training and immediately went on to greet his followers, who were all eager to have his autograph.
Even Pacquiao was overwhelmed by the welcome he received from the people of San Francisco.
"I want to fight in San Francisco," the Filipino boxer was quoted as saying by Web site Fightnews.com. "It thrills me that so many people are here. I'm going to ask Mr. (Bob) Arum to do a fight in San Francisco."

Though trainer

Freddie Roach

declined to make guarantees on Pacquiao's upcoming fight, he expressed confidence in his prize fighter.
"

Juan Manuel Marquez

is a tough guy…just want a win here," said Roach.
Pacquiao is set to face Marquez in a most anticipated rematch in Las Vegas, Nevada on March 15.
The Filipino boxer said his training for next month's rematch against Marquez is one of his most intense regimens ever.
The two fought into a controversial draw four years ago when the Filipino knocked down Marquez three times during the fist round. In the succeeding, rounds, however the Mexican fought back to secure the rest of the fight with superior counter-punching skills.
.